Snowdon - Yr Wyddfa
Snowdon (Welsh: Yr Wyddfa, pronounced is the highest mountain in Wales, at an altitude of 1,085 metres (3,560 ft) above sea level, and the highest point in the British Isles outside Scotland. It is located in Snowdonia National Park in Gwynedd, and has been described as "probably the busiest mountain in Britain".It is designated as a national nature reserve for its rare flora and fauna.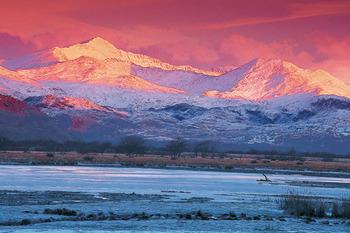 The rocks that form Snowdon were produced by volcanoes in the Ordovician period, and the massif has been extensively sculpted by glaciation, forming the pyramidal peak of Snowdon and the arêtes of Crib Goch and Y Lliwedd. The cliff faces on Snowdon are significant for rock climbing, and the mountain was used by Edmund Hillary in training for the 1953 ascent of Mount Everest.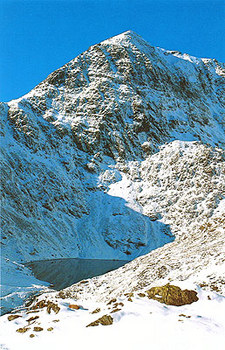 Snowdon boasts some of the best views in Britain, and the summit can be reached by a number of well-known paths. The summit can also be reached on the Snowdon Mountain Railway, a rack and pinion railway opened in 1896 which carries passengers the 4.7 miles (7.6 km) from Llanberis to the summit station. The summit also houses a visitor centre called Hafod Eryri, built in 2006 to replace one built in the 1930s.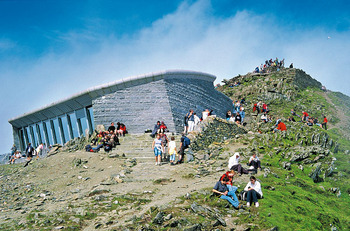 The name Snowdon is from the Old English for "snow hill", while the Welsh name – Yr Wyddfa – means "the tumulus", which may refer to the cairn thrown over the legendary giant Rhitta Gawr after his defeat by King Arthur. As well as other figures from Arthurian legend, the mountain is linked to a legendary afanc (water monster) and the Tylwyth Teg (fairies).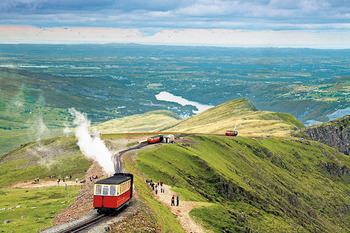 Various Snowdon Walking Routes

There are 7 main routes to the summit of Snowdon. They are represented in the map below. Please click on a route below for a more detailed route description.

1. Llanberis Track
2. The Pyg Track
3. The Miners Track
4. The Watkin Path
5. The Rhydd Ddu Track
6. The Snowdon Ranger
7. The Snowdon Horseshoe
The first building on the summit of Snowdon was erected in 1838 to sell refreshments, and a licence to sell intoxicating liquor was granted in 1845. When the Snowdon Mountain Railway was opened in 1896, a hotel was built at the terminus, near the summit. This was replaced in the 1930s by a restaurant designed by Sir Clough Williams-Ellis, which later served as a café and gift shop.. In April 2006, Snowdonia National Park Authority with the support of the Snowdonia Society agreed a deal to start work on a new café and visitor centre complex.
The new RIBA Award-winning £8.4 million visitor centre, Hafod Eryri, was officially opened on 12 June 2009

Photographs by Dave Newbould website link
Snowdon - Yr Wyddfa Statistics: 86 click throughs, 1276 views since start of 2023
Attraction in
Gwynedd
Entrance Charge

Opening Times

Snowdon - Yr Wyddfa

Our Website

News & Special Offers